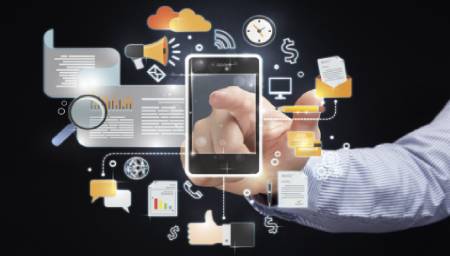 Best Mobile Application Design Service
With a paradigm move in the ways business is being carried out on handheld and mobile devices, there is a rising demand for mobile UI designs and apps on a large scale. Chicago Mobile App Design service from us helps you remain ahead of competition and craft a creative and fresh mindset for your customers –with engaging and cost-effective UI design.
Our Services
The Need for Apps
Reaching beyond their customary role in communication. Mobile phones are emerging as a power-packed platform for sharing, entertainment, collaboration, internet browsing, and social networking.
Mobile apps are integrating smarter designs and features to help marketing campaigns, connectivity options, and online business transactions for those people on the go. Individuals, corporate houses, and Business entrepreneurs are now incorporating custom user interface design in their apps—to increase the intrinsic worth and usability of their products and services.
App UI Design
We fully understand your requirements and concerns in regards to app development for your businesses. Our Mobile Application Design Chicago service is complemented by new concepts, innovative looks, simplicity, and flexibility. They are geared towards enhancing the applicability and functionality of your online existence and create attractive and impressive layouts for your apps.
Why Hire Us for Mobile App Design Chicago Services?
We are in full sync with the significance of handcrafting user-friendly, cost-effective, and intuitive mobile UI design. We take the challenge of offering the best technological tools and techniques in mobile app development and produce benchmarked customer experience for your businesses. Our experienced and skilled team of mobile app developers and designers focus on using the latest segmented control and multitasking tools together with smart touch gestures, enhanced screen layouts, and many other features.
Our interactive and intuitive UI designs work efficiently across different devices and networks and offer you many opportunities for designing ordered mobile eco-systems.